Our new name
The mana whenua of this land, Ngati Toa Rangatira, has gifted us a new name for our eastern Porirua Development programme.
Te Rā Nui reflects our purpose in eastern Porirua. It speaks of the 'rising sun of a great new day' that brings new light, new energy and a greater sense of wellbeing to Porirua's land and people.
A new day holds the hope and aspiration of the community. Many have journeyed here from across the waters, in search of a better life for themselves and their whanau. Our great new day now sees the community setting off together on a new journey towards a brighter future.
Te Rā Nui is a powerful expression of the mana of this area, and of the important work being undertaken for, and with, the people who call Porirua home, today and tomorrow.
Expressing our new name
We worked with local artist James Molnar to capture the essence of our new name in a new logo. James created an interconnected sketch that captured Porirua's unique landscape bathing in the rays of a new day. Living along its coastline, and within its hills and valleys, are the many people who make Porirua their home.
To become a logo, the design was simplified in three stages, putting the emphasis on the sun rising over the area's harbours and maunga and the inclusive communities of Porirua.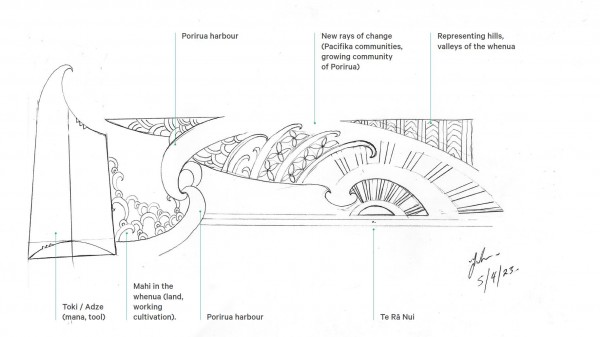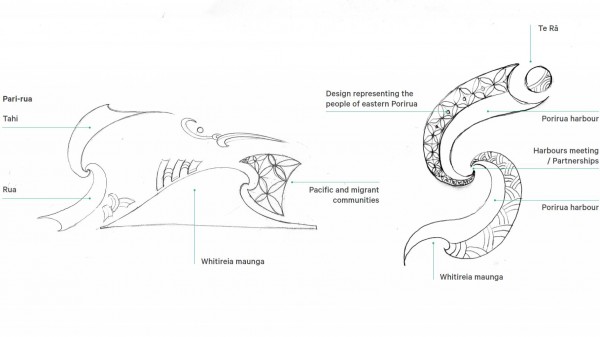 About James Molnar – Artist and Advisor
James Molnar born and raised in Porirua and now lives in Pukerua Bay. James is a painter, carver, designer, illustrator, exhibitor, teacher, and Māori design advisor.
Our new logo
The graphic expression our logo represents Porirua's two harbours coming together and the partnership (working hand-in-hand) between the Eastern Porirua Development programme and the local community.